SINEORA, a Japanese-owned French tech startup headquartered in Paris, is planning to hold an open innovation festival "Viva Technology 2021" in Paris in June this year. We are pleased to inform you that we have decided to hold a side event officially approved by the organizer of) in Sapporo.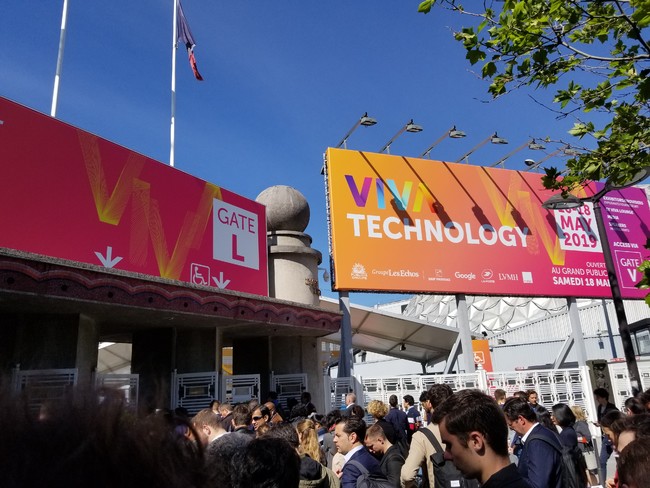 Due to the influence of the new coronavirus, many exhibitions have been canceled and more and more are being held online. Online holding has the advantage that you can easily participate in your daily work, but on the other hand, it is very difficult to concentrate on online holding in your daily work environment.
In addition, it is still very difficult to acquire business opportunities and find business partners by chance, which was possible by meeting the people concerned at a real event, and it is still a challenge to eliminate these disadvantages.
Based on these points, SINEORA has decided to hold a side event officially approved by the organizer in Sapporo in order to fully convey the significance of participating in the Viva Technology event to Japanese people even if they participate online. SINEORA is the official ambassador of Viva Technology in Japan, and in recent years, it has begun to attract attention as a festival of open innovation. The main purpose of the event is to have everyone in Japan get the results.
At the side event, not only the official online video from Paris, but also the local SINEORA staff in Paris will provide a local report covering the real event venue and an interactive question and answer opportunity for the participants of this event only… We will create opportunities for participants to exchange information and have discussions while watching reports from the field together.
Furthermore, with the special cooperation of STARTUP CITY SAPPORO and NoMaps, by learning about local open innovation and startup initiatives and providing opportunities to interact with related parties, we will expand the network of open innovation and startup related parties in Japan and the community. You can also use it as an opportunity to make it. The venue will be held by renting a coworking space "Value Creation Space space 360".
Of course, to prevent the spread of the new coronavirus infection, we will take all possible measures, such as one room per person staying at the hotel, thorough temperature measurement and hand sanitizer. By spending four dense days in the refreshing climate of June in Hokkaido without the rainy season, the value unique to participation from Sapporo, which is as good as the participation in Paris, and the new normal of participation in overseas exhibitions Offers.
-Overview-
Date: June 16th (Wednesday) -June 19th (Saturday), 2021
Venue: Sapporo, Hokkaido
Venue: Value creation space space360, Hotel MyStays Premier Sapporo Park, etc. Accommodation Hotel MyStays Premier Sapporo Park
Capacity 50 people (planned)
Organizer SINEORA
Sponsored by Viva Technology, JETRO (Paris office)
Special cooperation STARTUP CITY SAPPORO, NoMaps
Arranged travel agency Prima Tours
Tour details / inquiries / applications
https://www.primatours.co.jp/tours/vivatech.html
Inquiries to the organizer contact@sineora.com
-About Viva Technology-
A unique style event with the theme of open innovation by large companies and start-ups, which has been held in Paris since 2016. It is one of the largest tech events in Europe, and in 2019, it attracted 13,000 startups and more than 120,000 visitors from 125 countries around the world (it will be canceled in 2020). This year, we have decided to hold a hybrid of online and offline, and this is the first official side event of the style to be held in Sapporo as Viva Technology.
-About SINEORA-
A French tech startup founded in Paris by Japanese in 2019. We develop businesses that support borderless innovation and focus mainly on novations by Japanese companies and European startups. The company name "SINE ORA" is a coined word that combines "ORA" which means border (boundary) and negative form "SINE", and makes the boundary between large companies and startups or industries borderless as well as borders. I am aiming to go. He is also the official ambassador of Viva Technology in Japan.
-About STARTUP CITY SAPPORO-
STARTUP CITY SAPPORO is a project promoted by Sapporo City, Sapporo Industry Promotion Foundation, and D2GARAGE, which fosters entrepreneurship to open up the future in Sapporo and connects startups with innovative ideas with society.
https://startup-city-sapporo.com/

-About No Maps-
No Maps started in 2017. Industry-academia-government collaboration can lead to the creation of new businesses and societies by sharing and interacting with people who are thinking and acting to create a better society with cutting-edge technologies, ideas, and new values. Creating a place. In addition to the annual large-scale creative convention, we will expand the possibilities of business such as social implementation, coordination of social experiments, and networking.