How startups can impact French growth.
Unicorns are innovative companies valued at more than $1 billion, while in the VC world, a zebra company has a "double bottom line" culture. Robust and strong, it is both profitable and working to improve society. It is therefore a real, breathing animal as opposed to a mythical unicorn. As spearheads in the transition to a more sustainable economy, these companies have considerable potential to successfully address today's social and environmental challenges, while creating economic value in a context where the digitization of the economy has enabled unprecedented technological advances and progress.
Unicorn is important, impact unicorns are even more
In a recently published article, Caroline Neyron points out that impact unicorns are becoming increasingly popular in the business and investment world, as they provide a balance between economic profitability and positive social and environmental impact. However, she warns against greenwashing and recommends verifying the real impact of these companies through serious evaluations. This is one of the key focuses on which we are working within SINEORA.
Another study, conducted by the Boston Consulting Group, confirms the economic and social importance of impact unicorns in France. According to this study, these companies have a measurable positive social and environmental impact, while generating high financial returns for their investors. This trend can be explained by the growing commitment of investors to social and environmental impact, as well as by the evolution of regulations and public policies in favor of a more sustainable economy.
In France, impact unicorns and impact zebras are growing rapidly, with an average annual growth of 20 % since 2017, according to BCG. As evidenced by the Paris Climate Agreement, adopted in 2015 by 196 parties, France is leading the fight to reduce greenhouse gas emissions. It appears that the Elysée favors green growth through a strong political will, it has also translated into substantial investments in technological and scientific innovation. As an example, we can mention:
The research tax credit (CIR): it allows companies that carry out research and development expenses to benefit from a tax reduction,
The status of young innovative company (JEI): it allows companies less than 8 years old to carry out research and development expenses to benefit from tax and social exemptions,
The French Tech program: it aims to encourage the emergence of innovative start-ups in France by offering support and financing adapted to their needs,
The creation of competitiveness clusters: this involves bringing together companies, research laboratories and training organizations to promote exchanges and cooperation,
The creation of public investment funds: their objective is to financially support start-ups and innovative companies by offering them loans or capital investments.
Innovation and entrepreneurship are positioned as key elements to stimulate economic growth in France. The French government has put in place various measures to encourage these areas, notably through the promotion of unicorns and zebras, and by offering personalized support to start-ups and innovative companies such as incubators/accelerators and other competitions.
France is at leading position for CSR
In the same way, France is in the top three of the Ecovadis and Médiateur des entreprises rankings, as the third best performing country in terms of Corporate Social Responsibility, following Sweden and Norway. However, France remains far ahead of Germany, which is in 15th place, and the United States, which is only in 25th place. This ranking is the result of a rating of CSR policies based on more than 80,000 evaluations and is based on several criteria, including social issues or ethics and the prevention of corruption. Similarly, the data collected since 2015 shows a real French progress within the European Union as evidenced by its score of 54.3/100.
"There is a favorable ecosystem for CSR in France, driven by a demanding cultural and regulatory framework with, in particular, the deployment of the Pact law or the application of the duty of care." – Sylvain Guyoton, vice president of Ecovadis
In addition, the European Commission had already published an action plan for sustainable finance in 2018, which aims to redirect financial flows towards sustainable investments and promote transparency and environmental and social risk management. This has subsequently led many institutional investors such as pension funds, insurance companies and asset managers to adopt responsible investment policies that integrate environmental, social and governance (ESG) criteria into their investment process.
There are several reasons for this integration of CSR objectives into corporate policy. Europe's cultural and social norms have created a climate for the development of sustainable business ideas and innovations, making the EU the first region to commit to being carbon neutral by 2050 and to play a leading role in reducing global carbon emissions. Indeed, more than a third of the EU's recent €750 billion economic stimulus package has been allocated to climate-related spending.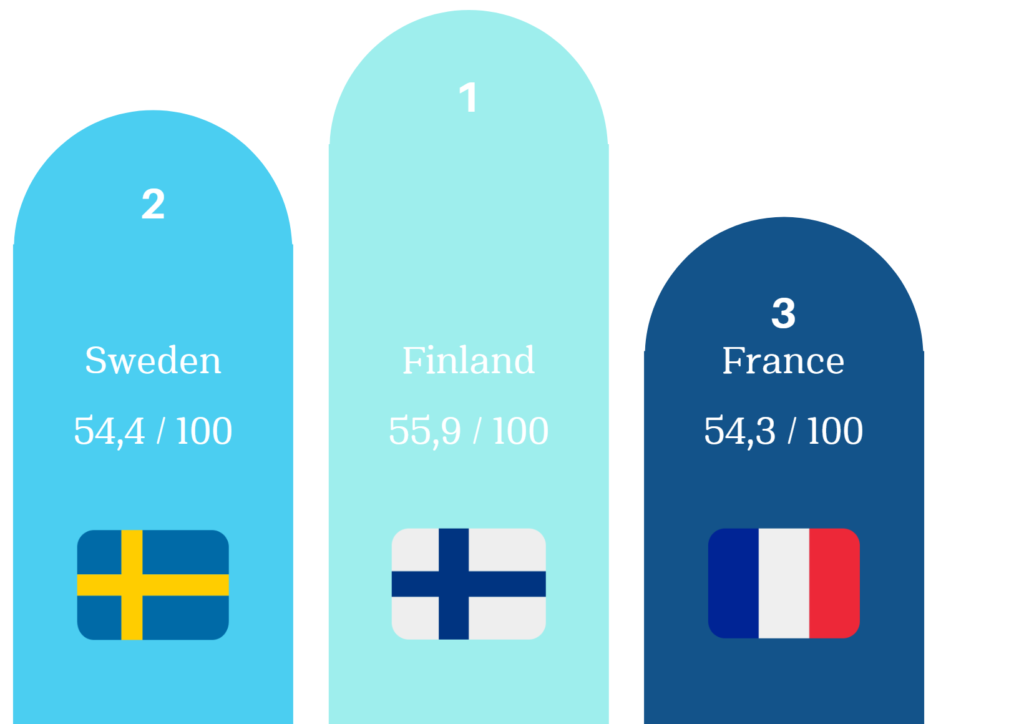 TOP 3 best CSR averages by country.
Similarly, many companies are controlled by foundations or families that operate with intergenerational time horizons and measure success in decades, not months or years. This allows them to tailor their activities to remain relevant now and in the future. More broadly, the European Investment Bank also plans to dedicate 50% of its lending to sustainable activities by the end of 2025 and to mobilize €1 trillion in green investments by 2030.
French unicorns, a sustainable impact
Unicorns have a positive impact on the entire French economy by stimulating the entrepreneurial ecosystem. Indeed, founders and employees of unicorns can become angel investors, mentors or advisors for start-up entrepreneurs, which can help create a stronger entrepreneurial culture and encourage the creation of new businesses.
In addition, French unicorns such as BlaBlaCar, OVHcloud or Doctolib are examples of French success stories in the field of technology that reinforce France's image as an innovative and entrepreneurial country. This image at the forefront of the international scene helps attract foreign investment in the French economy given the growth potential of this ecosystem and is also encouraged by public policies and tax incentives put in place to support innovation and entrepreneurship. A desire that takes all its meaning during the speech of the President of the Republic, Emmanuel Macron who at VivaTech – one of the largest European Tech Event – where he set as a goal of having 100 unicorns by 2030 including 25 green unicorns.
In the same way, this stimulation of both innovation and job creation, counted in thousands, also allows the economic growth of the country, which is now positioned as a destination of choice for technological investments. In addition, unicorns are often key players in the entrepreneurial ecosystem that contribute to strengthening the competitiveness of the French economy. As innovators, these high-growth technology companies boost the competitiveness of the entire economy by developing new economic sectors and creating new value chains while reducing trade deficits through new products and services for export.
Finally, unicorns through the creation of synergies and collaborations with other companies can be important contributors to the national economy, paying taxes on profits and generating revenue for local suppliers and partners. For example, according to a study conducted by Bpifrance, French unicorns generated more than €18 billion in revenues in 2020 while the study conducted by the consulting firm McKinsey testifies that high-growth technology companies created about 2.5 million jobs in Europe between 2000 and 2016 to support their rapid growth and to develop new products and services.
Again, more recently, the media LeParisien was interested in the number of jobs to be filled by the 26 French unicorns in 2020, a recruitment target that amounts to a total of 9000 for the most prominent companies in tech. And this is especially true for the new technology sector: for every job created by French Tech, 5 indirect jobs are generated – compared to 2 in traditional economic sectors, according to Paul Midy, Co-founder of Paris Digital and deputy. Unicorns, synonymous with jobs, economic sovereignty and contribution to the ecological transition.
In conclusion, impact unicorns and impact zebras are innovative companies that have considerable potential to address current social and environmental challenges, while creating economic value for their investors. They are crucial for governments to support their development by strengthening the innovation ecosystem and encouraging investments in sectors with high social and environmental impact, as well as promoting ambitious public policies in favor of a sustainable economy in the face of numerous social and environmental challenges.
Finally, the global average score reached 49.2 in 2021, up 1.7 points from 47.5 in 2020. This represents a doubling of the 0.9 point improvement observed between 2019 and 2020 where Western Europe remains the leading region in terms of corporate CSR performance while Asia-Pacific is the region that improved the most in 2021.