[03/10/20] Online event co-organized by SINEORA, BaseQ and eiicon
Event Details:
The event was scheduled at Clip Nihonbashi, due to COVID19, it has been livestreamed from BASEQ Studio.
OPEN INNOVATION VIVATECHNOLOGY 2020 Information session
Overview:
SINEORA, together with BASEQ and eiicon, decided to hold a tour to VIVA Technology in June 2020. The target audiences are members who are in charge of open-innovation, corporate strategy or new businesses in the large corporates, regional government and venture capitals.
On March 10th, the information session started with Business France' introduction of French Tech, followed by sessions related to French startup eco-system, the unique positioning of VIVA Technology, we had Komura san from Mitsui Fudosan, who is in charge of one of the most famous open-innovation program in Japan, explained current mind set / challenges in Japanese corporates regarding open-innovation. Meero Japan General Manager, Mr. Fukuda joined us for the panel discussion, which hinted the possible learning via our planned Open Innovation Program.
Even though VIVA Technology 2020 has postponed to next year, the needs of Japanese corporates to source more and better foreign startups are evident. With located both in France and Japan, we are continuing to provide necessary information and support Japanese companies' needs in cross border innovation.
Organizer: SINEORA / BASEQ (Mitsui Fudosan)
Co-organizer: eiicon
KEYPOINT:
– What does it mean for startups and big companies to work together?
– Japanese Companies' Perspective on Global Startups
– What can I learn in France?
– Why VIVATECHNOLOGY compared to CES, IFA, etc.?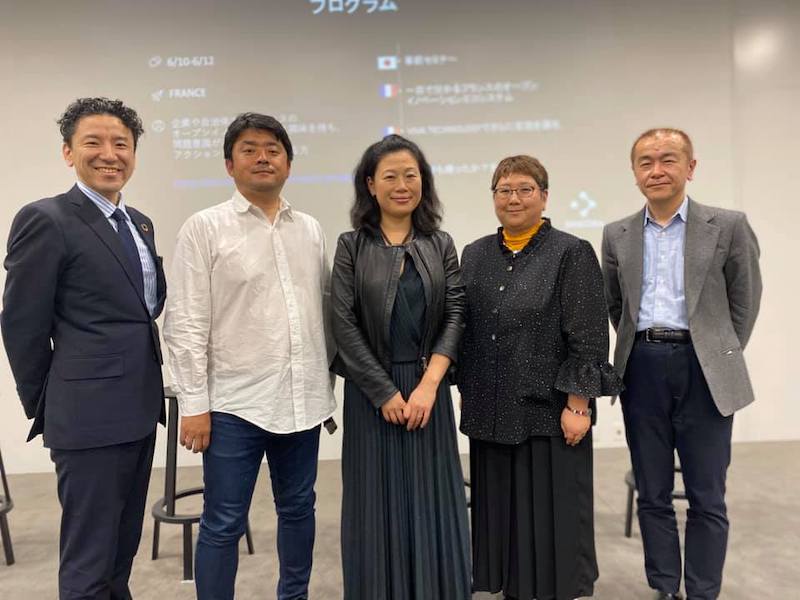 From left to right: Mr. Tsuyoshi Fukuda, Mr. Keiichiro Koumura, Mrs. Kimiko Imai, Ms. Kaoruko Hayashi and Mr. Yasuo Kawabata.
No matter what, innovation never stops.