Chinese Automakers Shine at Munich International Auto Show
The automotive world is in the midst of a significant transformation, with Chinese automakers making their presence felt at the Munich International Auto Show. This year's edition of the event, held in Europe's automotive industry's stronghold, was not only marked by a shifting emphasis towards the future of mobility but also by a sharp increase in Chinese participation. With nearly ten automakers participating, twice the number from the previous show in 2021 and even surpassing Germany, China showcased its ambitions in the European electric vehicle (EV) market through a surprising strategy: a focus on Luxury EVs.
The Evolution of Chinese Participation
For years, Chinese automakers learned the ropes from their Western counterparts, leveraging joint ventures to acquire valuable knowledge on the industry while simultaneously placing strategic bets on battery technology's pivotal role in decarbonizing road transportation. Taking into account that batteries can make up 40% of an EV's cost, such tactical choices laid the foundation for China's emergence as a global powerhouse in the EV market.
In the meantime, Europe, with its well-established automotive industry and stringent emissions regulations, has become the next battleground for Chinese automakers. The European EV market has experienced robust growth, with EV sales surging by nearly 55%, accounting for around 13% of all car sales in the first seven months of the year (SOURCE). With an incoming ban on petrol or diesel car sales slated for 2035 (SOURCE), Chinese automakers view Europe as a prime opportunity to capture market share.
Challenge to European Luxury EV Segment
What was probably the most surprising feature of this year's edition of the show was the direct challenge posed to European carmakers in luxury EVs. Companies like BYD and Xpeng introduced electric luxury SUVs such as the Seal U and the P7, aimed directly at the European market and targeting a segment traditionally dominated by BMW, Audi, and Mercedes-Benz in their native land.
While still relatively small, the European market share for Chinese electric vehicles has been steadily increasing. In 2023, around 8% of new EVs sold in Europe were from Chinese brands, up from 6% the previous year and 4% in 2021. And with new cooperations announced with historic players – such as Xpeng's recent deal with Volkswagen – European consumers can expect a shift in strategy when it comes to Beijing, as some of their main manufacturers also hope to gain market shares in China through these cross-continental alliances.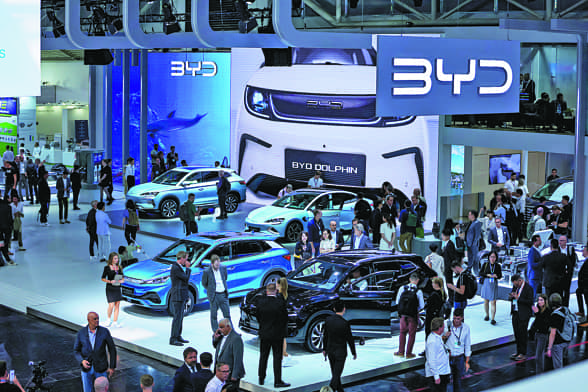 European Responses to Chinese Competition
In the face of this increasingly tough competition, European car manufacturers are adopting two different strategies. The former, more frontal, clearly sees China as a threat and tries to influence policymakers to protect the European players especially when it comes to the cost of production of electric vehicles in Europe.
As stated by Hildegard Müller – Head of the VDA lobby group – in recent declarations:
"The Chinese car industry is massively supported by the state in terms of industrial policy, while our production costs are moving further and further out of line with international competitiveness. These are difficult conditions."

Hildegard Müller – Head of the VDA lobby group
Hochfeld raised concern that Chinese brands could also secure a substantial share of the premium market, given changing consumer preferences. With changing consumer preferences increasingly prioritizing connectivity and entertainment where Chinese brands are superior over mechanical precision – a trademark of European luxury brands – the auto industry consulting firm Berylls already forecasts a "change of guard" in China's premium segment, with the Chinese "overtaking on the fast lane".
In a similar fashion, Carlos Tavares, the CEO of Stellantis Group, which encompasses renowned brands like Peugeot and Fiat, has sounded the alarm about the "invasion" of Chinese EVs in Europe. He emphasized that the increasing costs associated with European electric vehicles are a roadblock to effectively competing with Chinese automakers. According to Tavares, Chinese automakers possess a 25% cost competitiveness advantage when their vehicles arrive in European markets. While Tavares used to be a very active lobbyist calling for barriers to entry against Chinese EVs, Stellantis' departure from the European Automobile Manufacturers' Association (ACEA) earlier this year was a clear indication of the group's shift in approach, with Tavares going as far as declaring that:
"We no longer have lobbyists. We do not negotiate anymore. We can no longer wait for governments to make decisions — we have to run faster than regulation".

Carlos Tavares – CEO of Stellantis Group
As underlined by Uwe Hochgeschurtz, Stellantis' Chief Operating Officer, one of the central pillars of Stellantis' response will be a relentless focus on cost efficiency by leveraging synergies from the diverse array of brands under the Stellantis umbrella and even going as far as exploring the possibility of manufacturing EVs in cost-effective regions outside of Europe.
Embracing the Chinese Challenge
Contrasting with this approach, other renowned carmakers such as Renault are embracing the competition from Chinese players, including through its collaboration with Chinese auto giant Geely. Under this partnership, Renault and Geely have established a subsidiary called Horse, which is dedicated to internal combustion engines and hybrid technologies. Renault holds a 50% stake in this joint venture with Geely.
Luca de Meo, the group's CEO, declared at the Munich auto show that there is no reason to prohibit companies that "do good things for the European consumer". A position shared by Volkswagen's CEO Oliver Blume who aims at cutting battering cell costs by 50% thanks to its partnerships in China. According to the automobile industry analyst Ferdinand Dudenhoeffer, the establishment of Chinese battery manufacturers in Germany is contributing to the reduction of electric vehicle (EV) expenses and German policymakers must ensure they avoid implementing counterproductive decoupling tactics that might lead to their departure from the country.
The Battle for Electric Mobility Supremacy in Europe
In conclusion, the Munich International Auto Show spotlighted the increasing competition between Chinese and European automakers within the electric vehicles landscape, particularly in the luxury segment.
With a growing foothold in the European EV market and strategic partnerships with European counterparts such as Renault and Volkswagen, Chinese automakers are well-placed for a more prominent presence on the continent.
The undergoing transformations affecting the automotive industry raise many questions, especially when it comes to who will lead the race for greener mobility. How will European automakers maintain competitiveness amid cost advantages enjoyed by Chinese rivals? In navigating this dynamic landscape, the strategies adopted by European and Chinese automakers will shape the future of electric mobility in Europe and beyond.