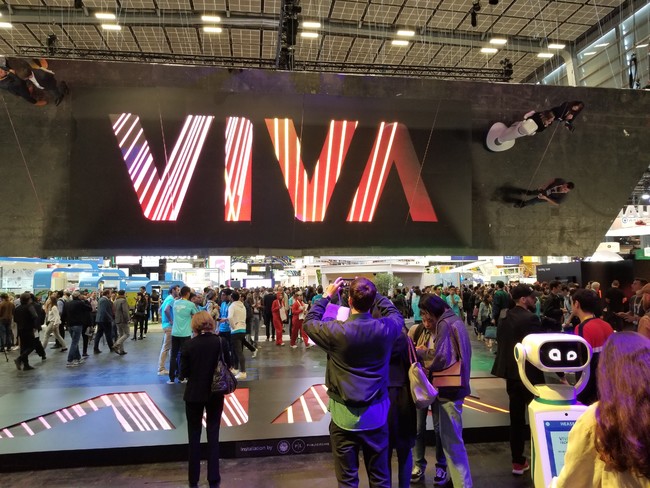 To coincide with "Viva Technology", the world's largest French technology exhibition that bridges startups and large corporations, from June 16th to 19th, French startup SINEORA (Sineora, Paris, President Kimiko Imai) will hold a side event in Sapporo. It has made it possible for visitors to simulate a tour of cutting-edge technology with explanations.
VivaTech and the Japan External Trade Organization (JETRO) Paris office will support the event. The last VivaTech that opened in 2019 was on 3rd and was attended by about 124,000 people. Around 13,000 startups and 3,300 investors from 125 countries and regions gathered at the event. About 2,300 companies participated in the exhibition.
This time, VivaTech will have a venue in Paris as well as an online presence. The number of participating companies is undisclosed, but so far major European companies such as Airbus and L'Oreal have exhibited at the show. New technologies such as artificial intelligence (AI) are expected to be unveiled.
The side event in Sapporo was attended mainly by corporates, venture capitalists. You can watch official online videos in Sapporo, including discussions from the VivaTech venue in Paris. The official video will be simultaneously interpreted into Japanese, and it will be introduced.
As a Sapporo-exclusive content, Sineora's local staff will cover the French venue on behalf of the participants and introduce the exhibition. Interviews with participants and others at the venue will be conducted based on a preliminary questionnaire for participants. There will also be opportunities for participants to interact with each other at the Sapporo venue, including managers and VC representatives from Hokkaido.
"NoMaps", an exhibition event featuring music, video and IT (information technology) cutting-edge technologies, and Sapporo City and the Sapporo Industrial Promotion Foundation will provide special cooperation. The venue for the event will be "space360", a co-working space in the city.
The method of participation and fees for residents of Hokkaido will be decided in the future. The participation fee from outside Hokkaido is about 250,000 yen per person, including airfare and accommodation. Participants will stay at the Hotel Mystays Premier Sapporo Park (Sapporo City). In addition to keeping one person per room, the hospital takes care of infection control measures such as thorough temperature checks and disinfection.
Under the new Corona, many exhibitions have switched to being held online. It is also difficult to find business negotiations and business partners, which used to be born from the meeting of related parties at the venue. "We've also learned that the content distributed is mainly discussions, making it difficult to see the new technologies on display"(Yasuo Kawabata, Japan Representative of Sineora in Japan).
It also devised a schedule. The morning of Japan time is free time, and the participants can do their normal work. In the early afternoon, it shows videos of interviews at French events. It will watch the official video later in the evening when the Paris event begins.
The hurdles to participation in overseas trade fairs are still high for those involved in Japanese companies, such as proving negative for new coronas and voluntary quarantine. However, there is a limit in feeling the response of participation by watching the official online video. There is a possibility that side events, such as gathering at a specific location in Japan to participate, will expand in the future.